A Recap of My 2009 Predictions
Published on 2009-12-14 09:52:00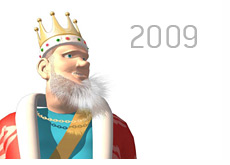 Back in January, I gave my five predictions for the online poker industry in 2009.
With the holidays just around the corner and 2009 drawing to a close, I thought that I would take a quick look at how my predictions panned out:
1. There will be a major merger in the online poker industry.
Fail. PartyGaming and Bwin are supposedly talking about a merger, but nothing has been announced as of yet. There have been some small acquisitions in 2009, but nothing that I would really classify as "major".
2. Daniel Negreanu will pass Jamie Gold on the all-time tournament money list.
Win. Thanks to his $817k cash in the WSOPE main event, Daniel Negreanu finally moved ahead of Jamie Gold after chasing him for years.
Negreanu was nearly a million dollars behind Jamie Gold to start 2009, so this wasn't exactly a "gimme". Negreanu had a great year and is now comfortably ahead of Gold.
Gold was also passed by Phil Ivey in 2009.
3. 2009 will be light on scandals.
Win?
There were some smaller scandals, but nothing approaching the likes of the Absolute Poker / Ultimatebet situations. Online poker, after seemingly being rocked by a major scandal every year, finally enjoyed a "quiet" year on the scandal front.
4. Tom "durrrr" Dwan will be the most profitable cash game player on Full Tilt Poker.
Epic fail.
I couldn't have been more wrong if I tried. "durrrr" has currently lost the most money of any player on Full Tilt Poker in 2009, having dropped an unbelievable $6,281,846.70 over 270,250 tracked hands. This prediction goes in the "ouch" category.
5. The "durrrr" challenge won't be accepted.
Fail.
Wrong again - the "durrrr" challenge was accepted (by Patrik Antonius), and the two players have completely nearly 28,000 hands.
I guess that the big question for 2010 (and beyond) is - when will this challenge actually come to an end? It's kind of funny that the challenge is barely 50% finished after nearly a year of play..
Source:
My Predictions for 2009
--
Filed Under:
Miscellaneous Poker Articles