Stanley Cup Finals Set to Conflict With Super High Roller Bowl, World Series of Poker
Published on 2018-05-26 11:51:00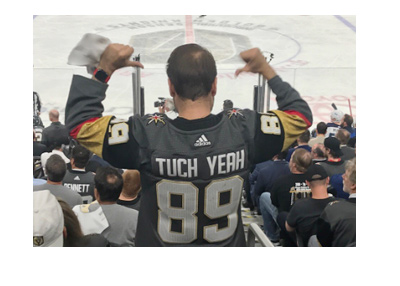 Daniel Negreanu is a big, big Vegas Golden Knights fan.
The expansion team is set to do something amazing, as they have reached the Stanley Cup Finals in their first year of existence. Negreanu has posted frequently about the team on his Twitter account, documenting the team's meteoric rise through the regular season and playoffs.
The Vegas Golden Knights have defeated the Los Angeles Kings, San Jose Sharks and Winnipeg Jets to make it through to the Stanley Cup Finals, and are now set to take on Alexander Ovechkin and the Washington Capitals. The Vegas Golden Knights are now just four wins away from the improbable - leading a Stanley Cup parade down the Las Vegas strip. Given that the Golden Knights were 500/1 to win the Stanley Cup before the season started, this is turning into one of the biggest sports stories of the past few decades.
This is all well and good, though Daniel Negreanu, the Golden Knight's #1 superfan, is now in a dilemma, as the upcoming Super High Roller Bowl and World Series of Poker will directly conflict with the Stanley Cup Finals.
The first two games could be especially problematic for Negreanu, as Vegas will play host to the Capitals on Monday, May 28th and Wednesday, May 30th. This is directly in the middle of the Super High Roller Bowl, which will run from May 27th to May 30th. Negreanu has already committed to play in the event, and the $300,000 buy-in is a great deal of money, as is the $5 million first place prize. If Negreanu makes it past Day 1 of the event, he may be forced to miss one or both of the first two games of the series. Given how much Negreanu, who is a Vegas season ticket holder, loves the Golden Knights, this is probably going to tear out his heart.
Game 5 of the series is set to Thursday, June 7th, while Game 7 is set to June 13th. The $10,000 Heads-Up NLHE Championship is set to start June 6th, while the $10,000 Dealer's Choice event starts the next day. The $10,000 HORSE event gets underway on Tuesday, June 12th.
-
It seems impossible to imagine that Negreanu would miss either Game 5 or Game 7 of the Stanley Cup Finals, though he could very well miss the first two home games depending on how he does in the Super High Roller Bowl.
--
Filed Under:
Miscellaneous Poker Articles