Poker Predictions for 2009
Published on 2009-01-05 10:11:21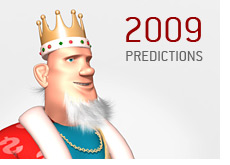 I've seen a number of other sites doing their predictions for 2009, so I thought that I would throw mine out there. Here are some of my predictions for 2009:
1. There will be a major merger in the online poker industry. A number of poker rooms are going to settle with the US DoJ in 2009, which will lead to at least one major merger in the industry, possibly more. Any merger will almost certainly involve Party Poker, which is doing its very best to regain some of its lost market share.
2. Daniel Negreanu will pass Jamie Gold on the all-time tournament money list. As of right now, Jamie Gold is sitting with $12.17 million dollars in total lifetime earnings, and Daniel Negreanu is in second with $11.2 million. Daniel seems to be playing some of the best poker of his career right now, and I think it's safe to say that Jamie won't be adding to his totals anytime soon. I think that by the end of the 2009 World Series of Poker, Negreanu will have caught Jamie Gold.
3. 2009 will be light on scandals. Compared to the ridiculousness of 2006-2008, I believe that 2009 will be a relatively quiet year when it comes to major scandals in the online poker world. Over the past few years, we've had "JJProdigy", "Zeejustin", "TheV0id", the Absolute Poker scandal, the Ultimatebet scandal, etc. etc. I think that 2009 will be a relatively uneventful year on the scandal front. Fingers crossed.
4. Tom "durrrr" Dwan will be the most profitable cash game player on Full Tilt Poker. The top 10 list will be dominated by the usual people (Phil Ivey, Patrik Antonius, Di and Hac Dang), but Tom Dwan is going to finish on top.
5. The "durrrr" challenge won't be accepted.
Details on the challenge here
.
Right or wrong, those are five of my predictions for 2009.
--
Filed Under:
Miscellaneous Poker Articles