Shares of The Stars Group Soar Over 14% After Deal is Announced
Published on 2018-04-23 21:37:00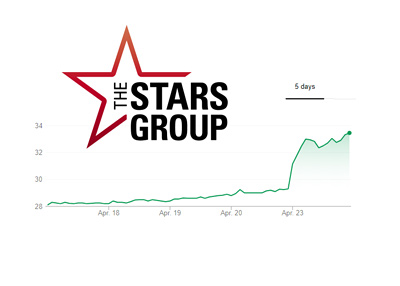 Analysts and the market in general have applauded The Stars Group's proposed takeover of Skybetting + Gaming, as shares of the Pokerstars parent company traded up over 14% on the NASDAQ today to close at $33.45.
As a result of the market's positive reaction to the deal, The Stars Group Inc., which has a portfolio of assets that includes Pokerstars and the European Poker Tour, is now valued at slightly more than $5 billion USD.
Any worries about the debt that The Stars Group is taking on (they are borrowing roughly $6 billion to close the deal) is being downplayed by investors, as there seems to be more excitement about the possible synergies between the two companies, as well as the balanced poker/sports betting/casino mix that The Stars Group Inc. will enjoy once the transaction closes.
Pokerstars had previously tried to purchase William Hill, though some of those company's biggest shareholders ended up scuttling the deal, as they were reportedly worried about Pokerstars' stagnating online poker revenue and the high amounts of debt that the combined company would incur to close the deal. The deal for Skybetting + Gaming has a large cash component, so those shareholders will not have the same worries.
-
This deal marks a continuation of the UK acquisitions that we've seen in recent months and years. With Pokerstars agreeing to purchase Skybetting + Gaming and GVC having purchased Ladbrokes Coral, there are less and less UK-focused independent companies remaining. With all of the overtures made over the past few years towards the company, you would have to think that William Hill is likely in play again, though the number of interested companies continues to dwindle, as many of the bigger firms have already found willing partners.
-
With this deal, Pokerstars is now one of the world's largest online gaming companies, having significantly bolstered their exposure to sports betting and online casino offerings.
The market seems to like the deal - however, will Pokerstars be able to effectively deal with another large pile of debt?
--
Filed Under:
Random Poker News