Daniel Negreanu Reveals How Much He Sold of Himself To Public For BIG ONE For ONE DROP Event
Published on 2014-06-30 18:55:00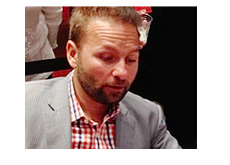 With the exception of maybe Phil Ivey, most professional poker players need to sell off substantial chunks of their action in order to play in the $1,000,000 BIG ONE For ONE DROP event.
Daniel Negreanu was no exception, as he took to Twitter to try to raise half of his buy-in for the event:
"Selling 50% of my action for One Drop. Email pattylandis@hotmail.com for details if interested in having a piece of me."
50% is still a significant percentage to have of yourself in a $1,000,000 tournament - there are other players in the event who likely have only 10% of themselves.
-
So, how successful was Negreanu's fundraising campaign for the ONE DROP event?
According to the video below, Negreanu ended up selling 13% of his action to the general public:
In addition, Negreanu said that he also some sold of his action to some of his friends.
-
Phil Hellmuth, who also took to his Twitter account to try to raise money for the $1,000,000 buy-in tournament, was less successful with his fund-raising efforts as he ended up missing the tournament.
--
Filed Under:
World Series of Poker