"Runner Runner" Brings In $7.7 Million on Opening Weekend
Published on 2013-10-08 01:25:00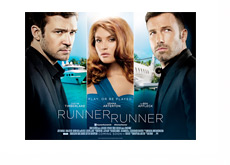 "Runner Runner", the new thriller centered around the offshore gambling world, debuted to less than stellar returns at the box office this past weekend.
Despite the star power (Justin Timberlake, Ben Affleck), "Runner Runner" stumbled badly at the North American box office this past weekend, raking in just $7.7 million.
The reviews for the movie were particularly bad - according to RottenTomatoes.com, just 8% of critics said that they liked the movie. It's not hard to see why the movie bombed at the box office.
--
"Rounders", which starred Matt Damon and Edward Norton, opened to fairly similar numbers in its first weekend ($8.4 million) of release.
While "Rounders" didn't do particularly well at the theatres, the movie ended up developing a cult following on DVD. "Rounders" did so well after leaving the theatres, in fact, that there has been talk that a sequel may be made in the future.
Given the horrible reviews for "Runner Runner", don't expect the movie to develop any sort of cult following of its own.
--
Filed Under:
Miscellaneous Poker Articles