Doyle Brunson Continues To Defy Father Time
Published on 2013-07-12 20:39:00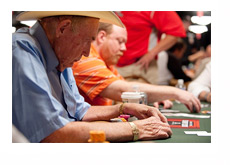 Doyle Brunson will celebrate his 80th birthday on August 10th.
For most of his adult life, Doyle has been doing one thing and one thing only - playing cards.
Sure, Doyle has had to cut back on World Series of Poker events this year due to the fact that he likes to be home by midnight, but that doesn't change the fact that Brunson's durability at the poker table is second to none. Despite being nearly 80 years of age, Doyle can still play through long 10 to 12 hour sessions against some of the best players in the world.
Earlier today, Doyle cashes in his EIGHTH World Series of Poker main event. As WSOP.com pointed out, this means that Doyle has cashed in WSOP main events in FIVE different decades.
Doyle's first WSOP cash came in 1976. He cashed twice in the 70s (both wins), three times in the 80s (including a 2nd, 3rd and 4th place finish), once in the 90s (1997), once in the 2000s (2004) and once again this year (2013).
Let's take a look at his main event results:
1976 - 1st, $220,000
1977 - 1st, $340,000
1980 - 2nd, $146,000
1982 - 4th, $52,000
1983 - 3rd, $108,000
1997 - 16th, $25,440
2004 - 53rd, $45,000
These numbers become even more impressive after we adjusted for inflation:
Inflation Adjusted
1976 - 1st, $905,349.79
1977 - 1st, $1,312,741.31
1980 - 2nd, $414,772.73
1982 - 4th, $125,907.99
1983 - 3rd, $253,521.13
1997 - 16th, $37,084.55
2004 - 53rd, $55,693.07
--
Many, many poker players have come and gone over the years. Some just aren't good enough to compete at the highest levels for any significant period of time. Some burn out and move on to other ventures. Some succumb to vices such as drugs, drinking and pit gambling.
Through the years, Doyle Brunson has endured and continues to play poker at a high level. It's really quite amazing.
--
Filed Under:
World Series of Poker