Published on 2008-07-07 02:27:57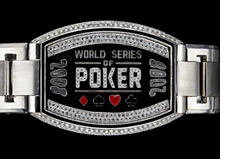 The final numbers are now in. 6,844 players for the 2008 World Series of Poker main event is the official number that has been released. This is almost 500 players more than last year, when Jerry Yang outlasted 6,357 other players to take down the main event.
In 2008, 1,297 players took part on Day 1a. An additional 1,158 people played on Day 1b, and another 1,928 people played on Day 1c. An eye-popping 2,461 people played on Day 1d, a number so large that it left tournament officials scrambling to place everyone. In the end though, things seemed to go fairly smoothly.
The total prize pool will be over $64 million dollars, with the first place winner receiving $9.1 million. The top 666 players will be paid a minimum of $21,320.
This number is extremely encouraging for the industry in general. This is the second largest number of participants in a World Series of Poker main event ever - only the 2006 WSOP main event, which was won by Jamie Gold, had a larger field (8,773). Last year, as mentioned, the total field was 6,358 players, and in 2005 the number was 5,619.
I don't think that anybody was predicting such a large field this year. Most of the people that I spoke with were predicting that the field would be slightly smaller than last year, with many expecting about 6,000 players. 6,844 is an extremely solid number, especially in the post-UIGEA poker environment.
All in all, an extremely encouraging day for Harrah's, and the poker industry in general.
--
Filed Under:
World Series of Poker