Published on 2007-10-26 04:18:38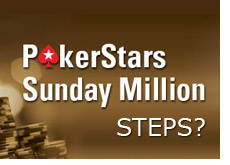 There have recently been some threads posted on both Pocketfives and Twoplustwo, requesting that Pokerstars add Step tournaments for the Sunday Million.
Pokerstars recently introduced STEP tournaments for entry into the APPT and PCA, and they have been a big hit with the players. Not only are they a hit with the lower-level players who hope to win an entry into a big live tournament, but they are also a hit with the higher-limit players who feel that the higher steps are very soft and therefore a great value.
Based on their initial response, Pokerstars doesn't seem too sold on the idea, claiming that the Sunday Million is quite inexpensive in comparison, and therefore Steps aren't really needed due to the wide array of satellite tournaments into the Pokerstars Million. I disagree, and think that these new step tournaments would be very popular.
Pokerstars have shown in the past that they are very willing to listen to the demands of their players, so if the step tournaments into the Sunday Million is something that would interest you, send an email to support@pokerstars.com and state your case.
The proposed structure would look something like this:
Step 1
$2.20 ($1.80 rake)
1st- Step 2
2nd- Step 2
3rd- Step 1
Step 2
$8 ($4 rake)
1st- Step 3
2nd- Step 3
3rd- Step 2
Step 3
$30 ($14 rake)
1st- Step 4
2nd- Step 4
3rd- Step 3
4th- Step 3
5th- Step 2
6th- Step 2
Step 4
$90 ($15 rake)
1st- Sunday Million Ticket
2nd- Sunday Million Ticket
3rd- Sunday Million Ticket
4th- Step 4
5th- Step 3
6th- Step 3
--
Filed Under:
Miscellaneous Poker Articles