Published on 2007-08-21 07:16:34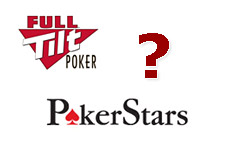 When it comes to big online poker rooms that still service the US crowd, you basically have two rooms. Pokerstars and Full Tilt Poker. Party Poker left after the UIGEA bomb was dropped, Ultimatebet has withered away and practically died, and any other poker room worth mentioning has either left the US altogether or is too small to talk about.
That begs the question: can you see another poker room coming out of nowhere and challenging the "Big Two" in the US market?
If the restrictive laws against playing online poker (or should I say, funding your online poker account) remain in place, then I really doubt that Full Tilt and Pokerstars will ever have any serious competition. I just can't see any one company with the funds and/or star power to gain such traction. Pretty much every big name poker player out there already has a sponsorship deal with either Full Tilt Poker or Pokerstars. They have the name recognition, and people trust their sites. They have built up a wide array of popular and well-populated tournaments, and seem to be capturing almost all of the new online poker players.
The only way that I ever see anyone challenging Full Tilt or Pokerstars is if online poker becomes regulated and legalized in the US. Then, there would be no restrictions on advertising, and big names such as Yahoo could enter the field and throw all of their marketing might at creating a popular poker room from the top down. But if that doesn't happen, I just don't see how a company could really do it. How do you get your name out there if poker-related advertising is banned from all of the major search engines? And ok, if you just want to advertise offline, where do you do it and how do you fund it if you are just starting out?
Full Tilt Poker and Pokerstars have an iron grip on the online poker market just like Ebay has an iron grip on the online auction market. Do you ever see another company coming along and knocking Ebay off of its perch? Me neither. Full Tilt and Pokerstars have a similar iron grip on the market in the US, and I don't see it loosening anytime soon. Even if a major figure from Full Tilt Poker defected and decided to start up his own poker room (the only person I could see with enough star power would be Phil Ivey), they would still have a heck of a time building up any kind of a user base. People want to play where the fish are, and Full Tilt Poker and Pokerstars are full of fish.
If the current regulations remain in place, Full Tilt and Pokerstars will just increase their market share, in my opinion. If there is regulation and legalization, then I could easily see any number of challengers to their throne.
What do you think?
--
Filed Under:
Miscellaneous Poker Articles