Published on 2007-06-10 23:50:20
The World Series of Poker is off to a running start. The WSOP this year is offering many more events than in previous years, and usually has a smaller buy-in event in the morning, and a higher buy-in event in the evening, catering to pros who don't want to play in tournaments with a field of over 2000 people.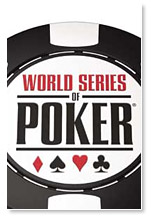 Many more people have turned out for the World Series of Poker than what was expected, and because of this, the WSOP has had to deal with some serious problems, including a lack of table space, overcrowding at the registration lines, and generally inept dealers (according to players that I have talked to.)
Presumably, the World Series of Poker makes an absolute truckload of money for Harrah's, from TV rights to the World Series to player rakes to increased cash game rakes to selling advertising at the event. In my opinion, Harrah's seems to be trying to wring every penny out of the event that it can, while putting the absolute minimum amount of money that it can back into the event. I can't help but think that if the Bellagio was hosting the World Series, that it would be run a lot more efficiently.
Anyways though, I was thinking about what Harrah's should do in order to make the Series run smoother next year. Some are frightfully obvious, but it bares mentioning because of the problems encountered this year:
1. Run by any changes with a "player's council" before the tournament. Harrah's made a terrible decision by introducing new playing cards at this year's event that were given an almost unanimous thumbs-down by the players at the event. I couldn't help but think that if Harrah's ran by the card changes by a group of like 10-11 players, that it could have avoided the problem in the first place.
2. Give the dealers a better deal, and you will have better dealers at the event. The dealers at the event are not getting a very good deal from Harrah's. Because of this, many of the top dealers are avoiding the event, and choosing to deal their usual cash games at the Bellagio or Wynn, where they can make a lot more money. If Harrah's gave the dealers a better deal, they would get much more competent dealers, rather than new dealers who aren't aware of the rules and have to call the floor over every hand.
3. Hire more people to work the registration window. Ok, this is obvious. However, if you have a line OUT THE DOOR for registration, you obviously need more people. I don't care if you have to set up wooden desks in the middle of the casino floor. Hire 50 people to work registration, have a couple of managers supervising the exchange of money, and cut down on those lines. There is no excuse for a line-up that starts at 6 am and goes out the door. None.
4. Find a bigger space to play. Cut down on cash games tables if you have to. Poker players should NOT BE PLAYING OUTDOORS IN A TENT. If you are going to offer more events, then fine; just be prepared to have the proper amount of space for the event.
I have a feeling that after this year, Harrah's will be making some pretty major changes. I mean, can you imagine if poker was carved out as an exemption from the UIGEA, or if it was even legalized and regulated in the US, how impossibly busy the World Series of Poker would be? All of this mayhem came in a year when interest in poker was supposed to have been chopped off at the knees due to the UIGEA. I think not. Big changes are coming (hopefully).
Technorati Tags:
world series of poker
--
Filed Under:
World Series of Poker