Venetian Poker Room Announced Signing Earlier Today
Published on 2015-11-23 09:32:00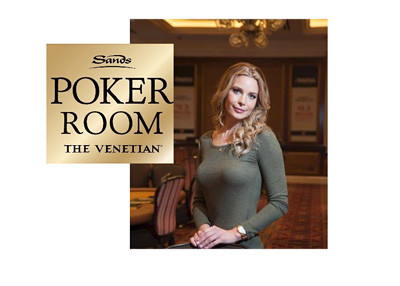 Erica Lindgren, poker player and wife of former "Team Full Tilt" member Erick Lindgren, revealed earlier today that she has signed on to become the new Poker Ambassador for Sands Poker and their Deepstack events.
Here is what the Venetian Poker Room had to say via Twitter about the signing:
"We are pleased to announce the signing of Poker Ambassador Erica Lindgren @thehitwoman. Welcome to the team Erica!"
Lindgren added:
"So excited to represent the Sands Poker room and all their great Deepstack events!"
-
The announcement from the Venetian Poker Room and Lindgren comes just a few months after Erick Lindgren refiled for Chapter 11 bankruptcy protection in a District of Nevada United States Bankruptcy Court.
Lindgren, who has a son with wife Erica, listed well over $10 million in debt and less than $50,000 in available assets in the filing. Some of Lindgren's biggest creditors include the IRS (who were owed more than $3.8 million at the time of the filing), Amaya, Inc. and a company by the name of CS RMR, LLC.
It is widely known that a crippling sports betting addiction resulted in Lindgren's finances hitting rock bottom, despite the fact that he was receiving monthly six figure distribution payments when Full Tilt Poker 1.0 was still in operation.
As Full Tilt Poker 1.0 was nearing its end, Lindgren erroneously received an extra $2 million payment from the company that was wired into his account. Company executives desperately tried to retrieve the extra payment from Lindgren but he never returned it, this according to a lawsuit that was filed by Amaya, Inc. earlier this year.
-
This is definitely an interesting signing, especially given the fact that the Lindgren name has been so tarnished over the past couple of years.
--
Filed Under:
Random Poker News