New Jersey Became Third State To Offer Online Gambling Earlier This Week
Published on 2013-11-30 15:48:00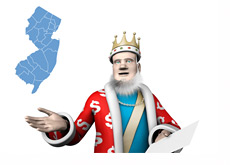 Earlier this week, New Jersey officially became the third state to offer online gambling.
A "soft launch" of online gambling started in New Jersey on November 21st. Sites participating in the "soft launch" had a total of five days to test their systems and work out any kinks before the "full launch" on November 26th. A total of six casinos (including Caesars Atlantic City and the Tropicana Casino and Resort) ended up being given the green light to participate in the "full launch", while the Golden Nugget Atlantic City is still working out issues and is expected to launch next week.
According to New Jersey's Division of Gaming Enforcement, roughly 37,300 online gambling accounts had been created through Thanksgiving. 5,000 of these accounts were reportedly created on Thanksgiving Day.
--
These numbers likely would have been even bigger if geolocation issues hadn't plagued some of the companies. There were numerous reports of New Jersey residents being shut out of sites as geolocation software placed them as being outside of the state.
In addition, many players are having issues getting money deposited onto the sites. Despite the fact that online gaming is now legal in New Jersey, Nevada and Delaware, many banks are still refusing to process online gambling transactions, even if they involve people who live in states where online gaming is now regulated.
Source: NorthJersey.com -
37k Accounts Set Up for NJ Internet Gambling
--
Filed Under:
Poker Room News