KGC Renews Full Tilt Poker's Secondary License for Two Years
Published on 2011-08-01 22:41:00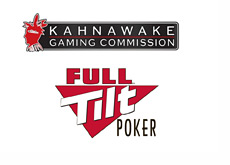 Late last week, the KGC (Kahnawake Gaming Commission) announced that they had "granted an application to renew the Secondary Client Provider Authorization held by Kolyma Corporation A.V.V., operating as 'Full Tilt Poker', effective August 1, 2011 for a term of (2) years."
According to the KGC, a secondary CPA licensee must hold a valid license to operate interactive gaming that has been issued by a comparable jurisdiction (aka a "primary license"). The KGC claims that they were in contact with the AGCC (Alderney Gambling Control Commission), and were informed that Full Tilt Poker's primary licenses are valid, even though they have been suspended.
So what does this move mean? Does it mean that Full Tilt Poker is expecting to have their AGCC license unsuspended? Does it mean that Full Tilt Poker will give up on the AGCC and attempt to set up shop with the KGC?
I don't see Full Tilt Poker going back to the KGC - after all, they hold a secondary license with the KGC. If Full Tilt switched back to the Kahnawake Gaming Commission, then their license with the AGCC would be terminated, and their secondary license at the KGC would be terminated as well (presumably).
In the end, this news probably doesn't mean that much. The AGCC situation is still up in the air, and Full Tilt isn't going to let their KGC secondary license lapse if they have even the slightest hope of getting their AGCC license reinstated.
Source: GamingCommission.ca -
Advisory Notice, Full Tilt Poker (*.pdf)
--
Filed Under:
Poker Room News