Which Company Will Pay Out Their US Players First?
Published on 2011-05-11 01:11:00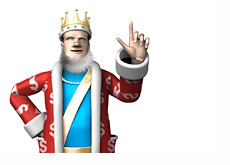 Earlier today, UB/AP (now known just as "Absolute Poker") circulated a press release in which they announced that they had reached an agreement with the US government.
Under the agreement, "the US Attorney's Office has agreed to provide all necessary assurances that third parties may work with Absolute Poker to facilitate the return of funds, currently held by third party processors, to players located in the US".
Many people have doubts that Absolute Poker has the money to pay back their US players. The press release that was circulated earlier today does not to quell the worries that many players have - it is just a "step", and the return of funds to US players is certainly not imminent.
So, nearly a month after "Black Friday", Full Tilt Poker and Absolute Poker are basically in the same position. Neither one services the US market anymore, and neither company has returned funds to their US players.
Will FTP and Absolute Poker eventually return balances to US players? I have no idea - only Full Tilt and Absolute Poker can answer that question.
But what I do know is that Full Tilt Poker will NEVER live it down if Absolute Poker pays out their US players first.
Full Tilt Poker is one of the 800 pound gorillas of the online poker industry. They have built themselves a very powerful brand thanks to the involvement of poker legends such as Phil Ivey, Patrik Antonius and Tom "durrrr" Dwan. It goes Pokerstars, Full Tilt Poker and then everybody else.
Full Tilt Poker's brand has already taken a beating as a result of "Black Friday". However, if Absolute Poker ends up paying out their US players before FTP does, then Full Tilt's brand will be permanently and irreversibly damaged. They will be a joke - the laughing-stock of the industry.
Why was Pokerstars able to pay out their US players so quickly? Part of their licensing agreement with the Isle of Man government states that player funds have to be segregated from general operating funds. This means that player funds are held in separate accounts than non-player funds (operating, investment accounts). So, as soon as they were able to, Pokerstars started paying back their US players.
Why hasn't Full Tilt Poker been able to pay back their US players nearly a month after "Black Friday"? Player funds at Full Tilt Poker were clearly commingled with operating funds. If Full Tilt Poker had kept their player funds segregated and protected like Pokerstars obviously did, then they would have already paid out their US players. The DOJ stepped in and seized a bunch of money, which means that Full Tilt Poker now has to prove how much of the seized funds belong to their US players. The DOJ isn't just going to take them at their word - instead, they will have to be convinced.
If Full Tilt Poker was the top shelf organization that they held themselves out to be, then they would have segregated and protected their player funds voluntarily, regardless of whether it was a condition of their licensing agreement. Instead, they are in the mess that they are currently in, losing a bit more of the online poker community's respect with each passing day.
--
I don't believe that Absolute Poker will pay out their US players before Full Tilt Poker does. However, if this does happen, then Full Tilt will never be able to wash the egg off of their face.
Full Tilt Poker needs to figure this out, and fast. The entire poker world is watching, not just those from the United States that are waiting for their money.
--
Filed Under:
Poker Room News