Viktor Blom Listed as Big Favorite in Second Match Against Negreanu
Published on 2011-03-22 23:11:00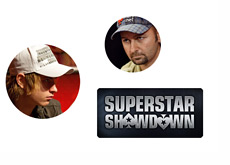 On Sunday, March 20th, Daniel "KidPoker" Negreanu and Viktor "Isildur1" Blom clashed in the first installment of their two-part "Superstar Showdown" match.
At least, it was supposed to be a two-part match.
The original plan was for Negreanu and Blom to play 2,500 hands on March 20th, and then another 2,500 hands on March 27th. At the end of the first 2,500 hands, the match would be frozen and the stacks would be carried over into the following week.
"Isildur1" had other plans.
One of the stipulations of the match was that both players would start with $150,000, and if either player busted their roll, then the match would be declared over.
Viktor Blom busted Negreanu in just 1,439 hands, and the much-anticipated "Showdown" quickly came to an end.
Thatís the bad news. The good news is that Blom and Negreanu have agreed to a rematch that will go down this Sunday (March 27th).
--
Pinnacle Sports had betting odds available before the start of the first "Superstar Showdown" between Negreanu and Blom, and they have also posted odds for the second match.
Prior to the first match taking place, Negreanu was listed as a +176 underdog, while "Isildur1" was a -192 favorite.
Given the beatdown that Blom applied to Negreanu during their first match, you should not be surprised to learn that "Isildur1" is listed as an even bigger favorite for the rematch.
Here are the betting odds as of right now:
Viktor Blom, -223
Daniel Negreanu, +187
Will Viktor Blom smash Negreanu once again this Sunday, or will "KidPoker" reverse the momentum and pull out a win? We'll soon find out..
Photo: GreasieWheels.com
--
Filed Under:
Random Poker News