Where Will Phil Hellmuth End Up Signing?
Published on 2011-01-09 10:40:00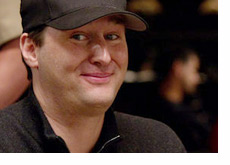 In case you have been asleep for the last two weeks and didn't hear the news, Phil Hellmuth is now a free agent and looking for a new home.
Ever since UB.com announced that Phil Hellmuth would no longer be endorsing their brand late last year, the poker community has been wondering where the "Poker Brat" would end up.
Would Hellmuth end up signing with one of the big two (Pokerstars, Full Tilt Poker), or would he sign with somebody else (say, the WSOP.com online poker room) so that he could be the "face" of the site?
According to Hellmuth
, his "agent's phone has been ringing off the hook" since rumors of his split with UB starting leak back in November. Although many people dislike the "Poker Brat" due to his antics at the table, there is no denying that he is one of poker's biggest names and a very visible presence in the poker world.
According to Hellmuth's Twitter feed
, Full Tilt Poker seems interested in signing the "Poker Brat" to a deal (or at least interested enough to take a meeting). Hellmuth had this to say recently:
"NOW meeting w Full Tilt Poker!! At "SW Steakhouse" bar at Wynn...Made my biggest bet of last 2 years on LSU (-2)!!!!!!!!"
Would Full Tilt be interested in making Hellmuth a member of "Team Full Tilt"? If this happens, then I'm assuming that Hellmuth would have at least a small equity stake in the company..
A while back, Howard Lederer said that the two players that he really wanted to add to "Team Full Tilt" were Daniel Negreanu and Doyle Brunson. No mention of Phil Hellmuth.
Will Full Tilt Poker be able to meet Hellmuth's presumably high asking price? Will Pokerstars step in and try to make a deal with the "Poker Brat"?
We should find out the answers to these questions soon, as I don't expect Phil Hellmuth to be a free agent for very long.
Photo: GreasieWheels.com
--
Filed Under:
Poker Room News