$4 Million Guaranteed Sunday Million Event Will Celebrate The 40 Billionth Hand on Pokerstars
Published on 2010-02-10 17:10:00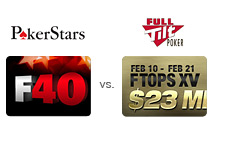 As you are likely already aware, FTOPS XV will be starting later tonight with the $200+$16 NLHE, $1 Million Guaranteed event.
FTOPS XV will wrap up on February 21st with the $500+$35 NLHE main event, which will have a total guaranteed prize pool of $2.5 million.
Pokerstars and Full Tilt Poker have been engaged in a tit-for-tat battle over the past while (Guinness World Record attempts, dueling TV shows, etc), and Sunday, February 21st will be no different.
As part of its 40 billionth hand promotion, Pokerstars announced earlier this morning that they would be hosting a special edition of their Sunday Million event on February 21st.
How special? The February 21st Sunday Million will have $4 million in guaranteed prize money, with $1 million being guaranteed to the eventual winner of the event.
Pokerstars will also be hosting a $40 buy-in tournament that will feature a million dollars in guaranteed prize money. These two tournaments will be run in addition to multiple other promotions that will celebrate the 40 billionth hand being played on the site.
Don't make any plans for February 21st, as there is going to be a total of $7.5 million in guaranteed prize money awarded in just three tournaments on Pokerstars and Full Tilt Poker. Should be a fun weekend on both sites..
Source:
Pokerstars to Celebrate 40 Billionth Hand
--
Filed Under:
Poker Room News