Is Kara Scott The New Host of "High Stakes Poker"?
Published on 2009-10-27 01:49:00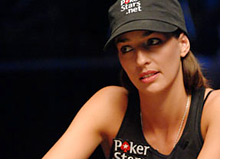 A.J. Benza, former co-host of "High Stakes Poker" on GSN, recently appeared on the "Mediocre Poker Radio" show (link below) to shed some more light on the current situation at HSP.
Benza, early on in the interview, revealed that he had heard that the new co-host of the show was going to be Kara Scott.
Kara Scott was one of the early rumored replacements for A.J. Benza, due to her association with Pokerstars and previous experience working as the TV presenter for the European Poker Tour.
GSN has not made any official announcement as of yet. They maintain that they are still working on securing the services of a new co-host, and that a decision will be announced in the next week or so.
Pokernewsdaily.com revealed earlier today
that Shana Hiatt will not be the new co-host of the show. This makes Kara Scott an even stronger possibility, considering that Vanessa Rousso has already said that she will not be working for the show.
Throw in the fact that Pokerstars is sponsoring the sixth season of High Stakes Poker, and Kara Scott seems to be a lock to host.
The new co-host of "High Stakes Poker" will not be sitting in the booth next to Gabe Kaplan.
Instead, the show seems to be switching to a "Poker After Dark" type of format, where you will have one commentator and another person conducting short interviews with the players at the table.
Benza had a number of interesting things to say, including:
-Benza's release was the result of GSN being in "price-slashing mode"
-the show "won't do well at all" this season
-all of the executives who had a hand in this decision will be at new networks within 4-5 months
-the show is "having a tough time putting players together to play season 6"
I'm more than a little bit curious to see who is playing on the sixth season of the show.
Will Pokerstars' sponsorship of the show have any effect on the line-up going forward? Will we see more members of Team Pokerstars on the show? Less "red" Full Tilt players? I wouldn't be surprised..
Kara Scott would be a good choice for the show, but I'm still not sure why a change was necessary in the first place..
Source: Mediocre Poker Radio
--
Filed Under:
Poker on TV