Tom Dwan Up $235k in "durrrr" Challenge
Published on 2009-10-01 10:37:00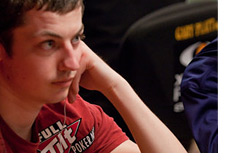 Tom "durrrr" Dwan and Patrik Antonius played another short installment in the ongoing "durrrr challenge" late Wednesday night, with Dwan booking a $274k win over the 400 hand session.
With his profit on Wednesday night, Dwan has moved back into the lead in the challenge, and is currently up around $235k over 23,597 hands.
The "durrrr challenge", which started back in early 2009, is now nearly half over, with 23,597 of the required 50,000 hands having now been completed.
The challenge has been moving along at a snail's pace, despite the fact that both players have stated a desire to finish the challenge as quickly as possible. With the World Series of Poker and World Series of Poker Europe events now out of the way, hopefully Dwan and Antonius will have more time to complete the challenge.
The biggest pot of Wednesday's session was won by Tom "durrrr" Dwan - here are the details of the hand:
Starting Stacks:
"durrrr" - $119,996.50
Antonius - $119,985.50
Antonius is the SB, "durrrr" is the BB
Antonius raises to $1,200, "durrrr" re-raises to $3,600, Antonius calls.
The flop comes:
7h-Ah-9c
"durrrr" checks. Antonius bets $6,000. "durrrr" raises to $22,600. Antonius re-raises to $75,000. "durrrr" ships the rest of his stack and Antonius calls.
Dwan shows:
8c-Js-Ad-Ac for top set and a gutshot straight draw
Antonius shows:
9s-3s-2d-9h for middle set
The turn is the 5h and the river is the 5d, giving "durrrr" a bigger full house and the $240k pot.
--
The two players are apparently going to try and play another session tomorrow..
Photo: GreasieWheels.com
--
Filed Under:
Cash Game Results