Phil Ivey Looking To Bet Big On The Super Bowl
Published on 2009-01-28 15:04:33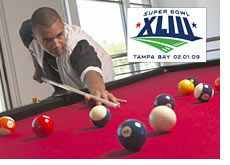 PokerRoad.com has a weekly show on their site called "Tuesdays With Ivey".
This show is a phone conversation between Barry Greenstein and Phil Ivey that normally lasts about ten minutes.
There are usually some pretty interesting pieces of information contained in the conversations - for instance, a few weeks ago, Phil Ivey revealed that himself, David Benyamine and Patrik Antonius had all accepted the "durrrr" challenge.
Anyways, fast forward to January 27th. In a show titled "Big Super Bowl bet and other things", Phil Ivey reveals that he is looking to bet a million dollars on the Super Bowl.
Ivey reveals during the call that he is attempting to place the bet at the Bellagio, and that he won't reveal who he is betting on.
Phil is known for his outrageously big bets, whether he is betting on sports, playing craps or doing prop bets with his friends. Some people with massive net worths are frugal with their money - Ivey is the exact opposite. He loves to gamble, and gamble big.
This isn't the first time that Ivey has bet over seven figures on a sporting event, and it certainly won't be the last.
Rumor has it that Phil lost $2 million dollars betting on the L.A. Lakers in the NBA Championships last year.
I've included a link to the show below.
Source: PokerRoad.com -
Tuesdays With Ivey
--
Filed Under:
Random Poker News