Ultimatebet Launches "Femme Fatale" Promo Featuring Tiffany Michelle
Published on 2008-11-10 04:21:41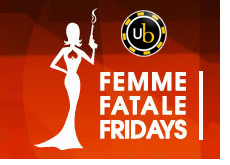 Fresh off of her disastrous (to put it mildly) World Series of Poker Main Event appearance on ESPN, Tiffany Michelle has launched a new promo with her sponsor, Ultimatebet.
The promotion is called "Femme Fatale Fridays" and gives Ultimatebet players the opportunity to "knock out" a "Hollywood knockout" (I'm not making this up btw). Tiffany Michelle will be taking part in two Friday evening tournaments - the "Femme Fatale" $20k Guaranteed Deep Stack and the "Femme Fatale" $6k Guaranteed Deep Stack. Knock Tiffany Michelle out of the $20k Guaranteed Deep Stack and you'll receive an entry to the Sunday $200k Guaranteed - knock her out of the $6k Guaranteed and you'll win a seat in the Wednesday $15k. Knock her out of both and you'll receive a Nintendo Wii (lol).
The promo goes on to call Tiffany "poker's most dangerously seductive female player" and a "poker seductress".
Now don't take this article the wrong way - I'm in no way promoting Ultimatebet. I scrubbed my sites of their ads (and Absolute Poker's) in the aftermath of the "superuser" scandals that rocked both companies. There are no links to Ultimatebet in this article, and I won't make any $ from this write-up.
However, I did find the promo interesting.
At first glance you wonder why Ultimatebet would choose to launch a promo with Tiffany Michelle right now. Tiffany is not exactly the most popular figure in the poker world right now - she made an appearance at the World Series of Poker main event final table tonight, and was greeted with a chorus of boos.
On the other hand, maybe people will be clamoring to knock her out of a tournament, which would make this a genius promotion for Ultimatebet.
Either way, I thought that this promotion was worth mentioning. It does involve two of the most talked-about names in the poker world right now - Ultimatebet and Tiffany Michelle.

--
Filed Under:
Poker Room News