Published on 2008-08-30 20:10:21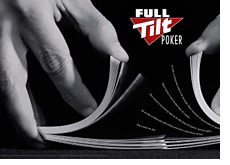 August is almost over. Many familiar names are atop the Full Tilt Poker leaderboard, including the likes of David Benyamine (+$782k), Tom "durrrr" Dwan (+$654k) and Phil Ivey (+$608k).
However, some lesser known names are having extremely solid months in the high stakes cash games on the site. The biggest months have been had by "LoLiNa" and "howisitfeellike". "LoLiNa" is currently up $1.0067 million dollars in the first 29 days of August, and "howisitfeellike" is up a shade less at $1.0056 million dollars. As always, this information is provided by HighStakesDB.com, and includes high stakes No Limit Hold'em, Pot Limit Omaha, Omaha Hi/Lo and HORSE.
Since the beginning of July, "LoLiNa" is up over $2.1 million dollars on Full Tilt Poker, and is by far the biggest winner on the site during that time period.
"sunra18" and "PrtectYaNeck" have both had a strong August. "sunra18" is up $622k for the month, while "PrtectYaNeck" is up $526k. Pot Limit Omaha made up 100% of the profit for "sunra18", while most of "PrtectYaNeck"'s profits came from No Limit Hold'em. "PrtectYaNeck" is one of the top heads-up No Limit Hold'em players on Full Tilt Poker.
Other names that have had strong months on Full Tilt include:
"OneUponAStar" (+511k)
"theASHMAN103" (+504k)
"slaktarn" (+492k)
Since the beginning of July, the five biggest cash game winners on Full Tilt Poker (according to HighstakesDB.com) are:
"LoLiNa" (+2.11 million)
"slaktarn" (+1.29 million)
Gus Hansen (+1.201 million)
"howisitfeellike" (+1.16 million)
"La Key U" (+848k)
The five biggest losers on Full Tilt since July 1st include some very familiar names. They are:
"patatino" (-2.026 million)
"ICallSoWhat" (-1.705 million)
Patrik Antonius (-1.106 million)
John Juanda (-859k)
"tsarrast" (-803k)
So far in August, there is one million dollar loser on Full Tilt, and that is "SteveSung", who has dropped a total of $1.077 million dollars on the month.
Source:
HighStakesDB
--
Filed Under:
Cash Game Results