Published on 2008-07-18 05:07:43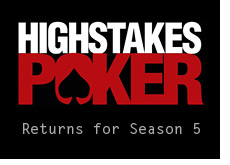 There have been rumors circulating over the past few days regarding the fifth season of "High Stakes Poker" on GSN.
Someone claiming to be Michael Zeisser (Senior Vice President of Liberty Media Corporation, serves on the board of directors for GSN) left a comment online, claiming that the fifth season of "High Stakes Poker" would take to the air in February of 2009. Other claims included: that the fifth season would introduce Pot Limit Omaha to the mix, that the fifth season of the show would feature Jerry Yang, Tuan Lam, Daniel Negreanu, Sammy Farha and others, and that the show would be filmed at the Wynn Las Vegas Hotel and Casino in Las Vegas.
We decided to email GSN directly to see what was going on, as the posting seemed a bit fishy to us. This is what Jennifer Minezaki, Director of Public Relations at GSN, had to say:
"This comment circulating around several poker sites was fraudulently posted by someone claiming to be a GSN board member. While many parts of the statement are inaccurate, GSN has picked up the option on the 5th season of HIGH STAKES POKER and continues to enjoy poker on its air."
So there you have it - High Stakes Poker will be returning for a fifth season.
In possibly related news, the World Poker Tour will be announcing their home for the seventh season of the show any minute now. There is still a chance that they will be returning to GSN, even though GSN did not pick up the seventh season. GSN publicly said that they were still interested in the show, however I would imagine that they are looking for more favorable financial terms. We should find out in a few days.
--
Filed Under:
Poker on TV