Published on 2008-04-14 02:33:39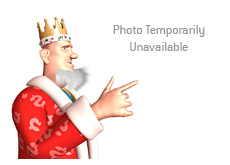 Wow! In his latest blog posting on his site, entitled "Eating Brain", Daniel Negreanu begins by talking about how prepared he is for both the EPT Grand Final (currently taking place as we speak) and the upcoming Five-Star World Poker Classic event at the Bellagio. Negreanu goes on to say that he is eating extremely healthy, exercising and getting proper bed rest.
After getting some of the more boring details out of the way, Negreanu sends out a warning shot to all of the other players who may be unfortunate enough to sit at his table.
The 140 pound vegan says that he is in "that killer mindset", "like I literally want to eat people's brains."
If that isn't enough to send a cold chill down your spine, Negreanu continues:
"Just literally rip their brains to shreds after an appetizer of ripping their hearts out of their chests, taking a big bite out of them, and then spitting the blood back in their faces."
Negreanu finishes by stating that he is going to "pwn" the EPT Grand Final, if the cards co-operate.
Negreanu is currently sitting with around 31k in chips at the EPT Grand Final event, which is right around average. They are near the end of play on Day 1B.
Source:
Full Contact Poker
--
Filed Under:
Random Poker News