Sorel Mizzi Swims Five Kilometers To Win Bet
Published on 2014-05-25 16:22:00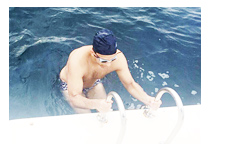 Sorel Mizzi successfully concluded a bet that many people didn't think was possible to win - he swam from Ipanema Beach in Rio de Janeiro, Brazil to an island roughly five kilometers away.
Many in the poker world were begging Mizzi to buy out of the bet when he first reported the details to his Twitter account. This Tweet from Mizzi didn't exactly inspire confidence:
"anyone have any insight / training advice? I use to swim quite a bit when I was a kid but haven't swam in a while and a bit out of shape"
It's not like Mizzi was swimming five kilometers in some pristine Olympic swimming pool - instead, he was swimming in waters that were infested with jellyfish, sharks and other creatures. In addition, waves and strong current would be certain to plague Mizzi over the course of his swim.
Aside from some birds, there was no sign of any ocean creatures over the course of Mizzi's swim. The ocean currents, however, played a big factor in the swim, as Mizzi was slowly being pulled away from the island.
In the end, however, Mizzi was able to overcome some extreme fatigue to touch the targeted island. Mizzi took a support boat with him, so he was never in any real danger - as soon as he completed the swim, he screamed for the boat to come and pick him up.
Mizzi walked away with tens of thousands of dollars in winnings from the bet and has promised to donate 10% to charity.
Mizzi posted a number of pictures of the bet to his Twitter account, which you can access below:
Source: Twitter.com -
Sorel Mizzi
--
Filed Under:
Miscellaneous Poker Articles