Deal Between Partypoker and Devils/76ers Likely Tip of the Iceberg
Published on 2014-01-12 04:49:00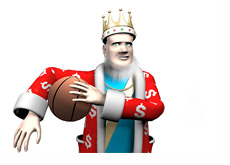 Earlier this week, partypoker (part of Bwin.party) announced that they had inked a deal with the Philadelphia 76ers of the NBA and the New Jersey Devils of the NHL.
The deal was significant, as it marked the very first time that a major US-based professional sports club had inked a deal with an online gaming company. These types of deals are very prevalent in Europe and Canada, but the deal between partypoker and the 76ers/Devils (which are both controlled by the same person) marked the first time that a US-based professional sports team had ever dipped their toe into the online gaming market.
As part of the deal, partypoker is going to become the official online gaming partner of both teams. In addition, partypoker will have traditional advertising spots (signage, etc) in the Prudential Center in Newark, New Jersey, which is home to the New Jersey Devils. The multi-year deal is reportedly worth "at least" $10 million.
--
Now, this deal is very likely to lead to similar deals in the near future, especially as legalized online gaming spreads throughout the United States.
The online gaming market is extremely competitive, and it stands to reason that the deep-pocketed competitors of partypoker in New Jersey (and other states as laws are changed) will look to ink similar deals. Any trepidation by other teams to sign deals with online gaming companies was likely eliminated after the generally positive reaction to the partypoker/NJ Devils/Philadelphia 76ers deal.
--
In my opinion, the major US-based professional sports teams who are in the bottom half of league revenue generation will be the first to sign these deals, but they will be eventually followed by the bigger clubs, especially as online gaming spreads through the United States.
--
Filed Under:
Miscellaneous Poker Articles