Shares of Zynga Walloped Following Announcement
Published on 2013-07-26 19:38:00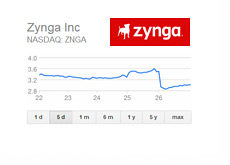 At first glance, the second quarter earnings report from Zynga, the social gaming company behind Farmville, Zynga Poker and Words with Friends, was a solid one. The company reported a second quarter loss of 1 cent per share on revenues of $230.74 million, bettering analyst expectations of a loss of 4 cents per share on revenues of $185.42.
However, buried deep within the company's earnings release was the revelation that Zynga would no longer be pursuing real money gaming in the United States.
Shares of Zynga have been battered and bruised since the company went public in 2011. Shares of Zynga originally opened for trading at $11/share, and have seen fallen as $2.09.
Many investors and analysts felt that the company would be able to find its salvation in real money gaming. The company partnered with Bwin.Party to provide real money gaming products to residents of the United Kingdom, and it was expected that the same thing would take place in the United States. Any relief that shares of Zynga have had over the past year or so have come due to optimism over Zynga's place in the changing online gaming landscape of the United States.
Don Mattrick was hired as the CEO of the company just a few weeks ago, and one of his first moves has been to move the company away from real money gaming, at least in the United States. Mattrick, who formerly worked at Microsoft and Electronic Arts, has said that he wants to focus on shoring up the company's free to play offerings.
This news cause a number of investors by surprise, sending shares of Zynga lower by 14% during Friday's session. Now that investors are no longer able to look forward to the potential riches of real money gaming in the United States, they get to focus on things such as the company's plunging DAU (daily active user) numbers, which is why many investors elected to dump their shares today.
Can Zynga make it over the long-term without entering the real money gaming market in the United States? Will they continue in their partnership with Bwin.Party in the United Kingdom? We'll have to see.
--
Filed Under:
Miscellaneous Poker Articles