What Was The Largest Single Payout After Adjusting For Inflation?
Published on 2013-07-15 23:25:00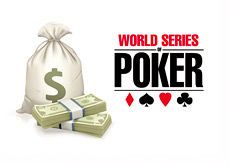 The World Series of Poker main event has been running since the early '70s.
The very first "main event" took place in 1970. The event, which was "won" by Johnny Moss, was an invitational that was determined by a vote.
The first main event that actually had a buy-in occurred in 1971, and this event was also won by Johnny Moss. Moss defeated Walter "Puggy" Pearson in the $5,000 buy-in event and took home $30,000 for his troubles.
Over the past 40+ years, the size of the main event has swelled thanks to the surge in popularity of the game of poker. Things really accelerated when online poker started its boom - in 2002, the main event attracted 631 players. By 2012, the main event field was well over 6,000 players.
I thought that it would be interesting to look at the main event payouts since 1971 and see what they would translate to in 2013 dollars:
Year - Payout (Inflation Adjusted Payout)
1971 - $30,000 ($173,410.40)
1972 - $80,000 ($446,927.37)
1973 - $130,000 ($684,210.53)
1974 - $160,000 ($616,113.74)
1975 - $210,000 ($913,043.48)
1976 - $220,000 ($905,349.79)
1977 - $340,000 ($1,312,741.31)
1978 - $210,000 ($752,688.17)
1979 - $270,000 ($868,167.20)
1980 - $385,000 ($1,093,750.00)
1981 - $375,000 ($964,010.28)
1982 - $520,000 ($1,259,079.90)
1983 - $540,000 ($1,267,605.63)
1984 - $660,000 ($1,486,486.49)
1985 - $700,000 ($1,521,739.13)
1986 - $570,000 ($1,215,351.81)
1987 - $625,000 ($1,286,008.23)
1988 - $700,000 ($1,383,399.21)
1989 - $755,000 ($1,424,528.30)
1990 - $895,000 ($1,601,073.35)
1991 - $1,000,000 ($1,715,265.87)
1992 - $1,000,000 ($1,666,666.67)
1993 - $1,000,000 ($1,618,122.98)
1994 - $1,000,000 ($1,577,287.07)
1995 - $1,000,000 ($1,533,742.33)
1996 - $1,000,000 ($1,490,312.97)
1997 - $1,000,000 ($1,457,725.95)
1998 - $1,000,000 ($1,434,720.23)
1999 - $1,000,000 ($1,402,524.54)
2000 - $1,500,000 ($2,035,278.15)
2001 - $1,500,000 ($1,981,505.94)
2002 - $2,000,000 ($2,600,780.23)
2003 - $2,500,000 ($3,176,620.08)
2004 - $5,000,000 ($6,188,118.81)
2005 - $7,500,000 ($8,982,035.93)
2006 - $12,000,000 ($13,921,113.69)
2007 - $8,250,000 ($9,301,014.66)
2008 - $9,152,416 ($9,937,476.66)
2009 - $8,547,042 ($9,310,503.27)
2010 - $8,944,310 ($9,586,613.08)
2011 - $8,715,638 ($9,059,914.76)
2012 - $8,531,853 ($8,688,241.34)
2013 - $8,359,531 ($8,359,531.00)
--
Filed Under:
World Series of Poker