Duhamel's WSOP Bracelet Found By Street Sweeper
Published on 2012-02-17 17:45:00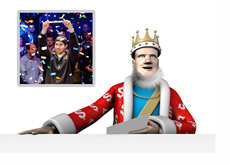 According to TVA Nouvelles (link below), Jonathan Duhamel's World Series of Poker bracelet has been recovered.
According to the publication, a street sweeper happened upon the valuable piece of poker history as he was cleaning the streets of Montreal. The bracelet, which was covered with mud when the street sweeper happened upon it, was reportedly found in a slightly damaged state after somebody had attempted to scratch out Duhamel's engraved name.
Duhamel's World Series of Poker bracelet had been missing ever since the December home invasion that landed the "Team Pokerstars Pro" in the hospital. A Rolex and "tens of thousands of dollars" were also taken in the robbery.
Law enforcement officials contend that the robbery was an inside job, as Duhamel's ex-girlfriend Bianca Rojas-Latraverse reportedly conspired with two men, Anthony Bourque and Stephan Clark-Lemay, to rob the 2010 WSOP champion. Rojas-Latraverse, Bourque and Clark-Lemay have all been charged with multiple crimes in connection with the home invasion.
The home invasion, which took place in late December of last year, started when Duhamel opened his door to what he thought was a delivery person. Duhamel had been expecting a delivery and it was early in the day, so his guard was down. The supposed delivery man and an accomplice reportedly forced themselves into Duhamel's home, where they tied up and beat the World Series of Poker champion. Duhamel was hospitalized as a result of the attack, but has since made a full recovery.
Source: TVANouvells.ca -
Jonathan Duhamel's Bracelet Found
HT:
Pokernews.com
--
Filed Under:
World Series of Poker