Releasing Exclusive Statements Just Won't Cut It
Published on 2011-09-01 18:01:00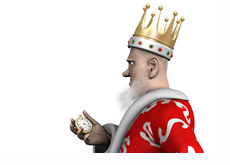 Shortly after "Black Friday" took place, Pokerstars leapt into action.
The world's largest online poker site released multiple statements in the days following "Black Friday", making sure to calm their worried customers and assure them that their money was safe.
Pokerstars not only posted these statements in very prominent locations on their site, but they also emailed the statements to each and every one of their customers.
Full Tilt Poker? Not so much.
With the resumption of the AGCC hearing on September 15th (at the latest) rapidly approaching, Full Tilt Poker has decided that it would be wise to start releasing statements.
Full Tilt released a statement last week and another a few days ago.
Their first statement was released exclusively to Pokernews.com. Tuesday's statement was reportedly sent exclusively to Pokerstrategy.com. Pokerstrategy.com didn't get the statement up right away, and they were scooped by Forbes.com (from what I heard).
Why is Full Tilt Poker releasing exclusive statements?
Why isn't Full Tilt Poker emailing these statements to their player base? I'm a player on Full Tilt Poker, and I certainly haven't received a statement.
If I were Full Tilt Poker, I would:
1) Email every player with a copy of the statement
2) Email every affiliate with a copy of the statement
There are plenty of casual poker players who don't read the major online poker media sites. They get home from work on Friday night and decide to play on their favorite online poker site for a few hours. Many people have never even heard of the major online poker media sites that we visit every day.
These people should have statements sent to them via email. Instead, they try to log into Full Tilt Poker and have absolutely no clue what is going on.
Statements should be released to every person who has an account on Full Tilt Poker - just my opinion.
--
Filed Under:
Miscellaneous Poker Articles