Will a Man Win the WSOP Ladies No Limit Hold'em Championship?
Published on 2011-07-03 14:48:00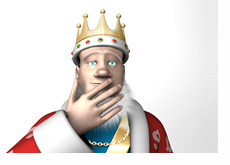 This year's edition of the $1,000 Ladies No Limit Hold'em Championship at the World Series of Poker had a total field of 1,055 players. Of these 1,055 players, the vast majority were women (as you would expect).
One of the men that decided to enter the tournament (for whatever reason) has made a very deep run and is in contention to win the whole thing.
Jonathan Epstein currently sits seventh in chips heading into the third and final day of play. Standing in the way of Epstein will be 13 female players, one of which is Amanda Baker. All 14 of the players who managed to make it through to Day 3 will take home a minimum of $8,697, with the eventual winner walking away with $192,344 and the World Series of Poker bracelet.
--
There have been a wide range of different reactions to Epstein's run in this event (and men participating in the Ladies event in general).
Some people are indifferent. Some people find it funny. Others (I would say the majority of people) are pretty pissed about it.
Here are some of the reactions from Twitter:
Matt Stout - "Here's a big "FUCK YOU" to douchebag piece of shit Jonathan Epstein, who is deep in the WSOP Ladies Event. Hope you die. #fb"
RBurke77 - "Jonathan Epstein registers for the Ladies-Only $1000 WSOP event and currently is 6th place. You, sir, are the biggest douche on the planet."
SrslySirius - "Many people disagree, but I think it would be a fitting finish to a farcical event if Jonathan Epstein takes it down. glglglglgl"
CasinoCity_AT - "Mr. Jonathan Epstein is hearing it from the rail, 5-6 deep in the WSOP ladies event. I guess that's what you get when you decide to play ..."
Breezie7 - "Go jonathan Epstein Ladies it's time to stop playing victims When u abuse a player u lose your right to complain when treated badly @ table"
--
Will Jonathan Epstein win this event? We'll find out later today..
--
Filed Under:
World Series of Poker