Chad Brown Has Ten Pound Tumor Removed From His Abdomen
Published on 2011-02-19 23:40:00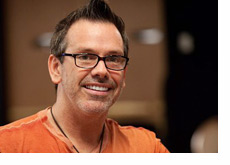 Earlier today, Vanessa Rousso revealed via her Twitter account that Chad Brown has been diagnosed with sarcoma, which is a form of cancer.
According to Wikipedia, sarcoma is a very rare form of cancer with only 15,000 new cases diagnosed in the United States each year.
Here is what Rousso said about the situation earlier today:
"I hate to break this news, but my husband Chad @downtownchad was recently diagnosed w a rare form of cancer. A large tumor was removed yest."
"Trying to remain upbeat n positive as we wait 4 final pathol. reprt-due next week. We r currently focused on recovery from his major surgery"
"The cancer looks like sarcoma. 10 lb tumor was removed from retroperitoneal area in his abdomen. Nothing sure till we get pathology report."
--
A few hours later, Brown spoke out about the situation via his Twitter account:
"i want to thank everyone for their tremendous support. it means a lot to me. we got through the 1st hurdle about as good as can be expected."
Brown is a well-liked and respected person and poker player, so there has been an outpouring of well wishes and support from the poker community today.
Let's hope that Chad can overcome this horrible disease..
--
Filed Under:
Miscellaneous Poker Articles