UIGEA Amendment Contract Hits a High of 68, Set to Expire Worthless
Published on 2010-12-18 04:56:00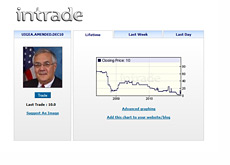 Intrade.com, according to their website, is a "global prediction market" where people can trade contracts whose values are derived from the probabilities of certain events taking place.
Each contract is valued at between 0 and 100 - 0 means that the event will not take place, while 100 means that the event will take place. The price of each contract is determined by buyers and sellers, just like in the stock market.
For instance, you can currently buy or sell a contract based on whether or not the Democratic Party candidate will win the 2012 Presidential Election in the United States. This contract currently costs 55.9 to buy and 55.1 to sell. If you buy the contract and President Obama wins a second term, then your contract is would be worth 100 - if he ends up losing, then your contract would be worthless. Values will obviously fluctuate based on how likely it seems that Obama will win between now and the election.
Anyways, there is an "Internet Gaming" contract on the site (the only one) that is just about to expire worthless.
The contract is based on whether or not Rep. Barney Frank will have passed a bill (with himself as sponsor) amending UIGEA by December 31st, 2010. This contract was first introduced on April 11th, 2008 and has traded a total of 1,090 contracts.
As you can probably guess, the contract is set to expire worthless, due to the fact that Congress is about to adjourn for the year and Barney Frank has been unsuccessful in his attempts to pass online gaming legislation in the country.
The interesting thing to note is that the contract traded as high as 68 back in 2008, meaning that Intrade.com traders thought that there was a pretty good chance that Frank would end up passing his legislation by the end of 2010.
Here is a chart of the price movement from April 11th, 2008 until now:
Source: Intrade.com -
Amendment of UIGEA by Rep. Barney Frank
--
Filed Under:
Miscellaneous Poker Articles