Will New Draft of Bill Be Friendlier To Sites Such as Pokerstars and FTP?
Published on 2010-12-06 08:58:00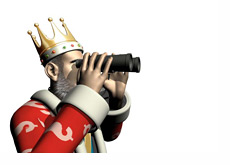 ESPN.com columnist Gary Wise had some interesting things to say on his Twitter account earlier today regarding Harry Reid's Internet poker bill.
As you may or may not have heard, Senate Majority Leader Harry Reid and his staffers have been working on a bill that would legalize and regulate online poker in the United States.
The existence of such a bill wasn't revealed to the general public until this past week, when the Wall Street Journal ran an article that revealed some of the first details of Reid's planned bill.
Several Republican lawmakers, including Spencer Bachus, also learned of Reid's bill last week and sent off sternly-worded letters to both Reid and Mitch McConnell in which they denounced the bill.
According to the WSJ, "Mr. Reid's office is considering language that would allow only existing casinos, horse tracks and slot-machine makers to operate online poker websites for the first two years after the bill passes, which could limit the ability of other companies to enter the market."
Reid and his staffers are currently trying to finish writing the bill so that it can be passed before the end of the "lame duck" session of Congress, which is scheduled to end on December 17th. The full-court press is on right now, as there will be a greatly diminished chance of online poker legislation being signed into law over the next few years due to the fact that the Republicans will occupy the majority of House seats come January 3rd.
--
Anyways, back to Gary Wise. According to Wise, "my understanding is a new version is coming out tomorrow".
What about sites such as Full Tilt Poker and Pokerstars, which would have been frozen out of the United States for a substantial period of time in the first version of the bill?
"..not much else I can share due to promises of confidentiality, but the differences will profoundly affect those operating now.."
And Gary's last note on the bill:
"multiple sources who have seen the latest version tell me that @pokerati's assertion that the Reid bill will be much changed is accurate"
Many people have been wondering what would happen to Pokerstars and Full Tilt Poker if Reid's bill went through.. based on Gary's words, it sounds as though a revised version of the bill will have friendlier terms for existing online poker rooms.
Anyways, you can expect this story to move quickly over the next week or so, as there is only a very limited amount of time (two weeks) to pass the bill before the current session of Congress comes to an end.
Source:
Gary Wise Twitter Page
--
Filed Under:
Poker Legislation