Winner of WSOP Will Take Home Extra $172 In Added Money
Published on 2010-11-07 06:02:00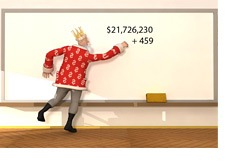 While the World Series of Poker main event final table was on break earlier tonight (by the way, congratulations to Jonathan Duhamel and John Racener for making it through to Monday), I thought that I would leaf through the "November Nine" media guide.
As you may or not not know, when the World Series of Poker final table is set in July, the final table participants are paid 9th place prize money immediately. Since the final table is delayed 3 1/2 months until November, over $21 million in total prize money ($21,726,230) sits without a home until the final table finally gets underway.
What happens to this money? It's invested, with the interest being distributed to players based on how they finish.
According to the World Series of Poker "November Nine" media guide, the $21,726,330 was invested on July 20th, 2010 into the "Goldman Sachs fund FTIXX".
The amount of interest that the $21,726,330 generated over this time? $459.
That's right - over $20 million collected just $459 in interest over the course of 3 1/2 months (actually, a little less than 3 1/2 months, as the money was removed on October 28th, 2010, but still).
This princely sum of money means that the eventual winner of the main event will take home an additional $172, while the runner-up will receive an extra $100. The eighth place finisher, Matthew Jarvis, took home an extra $5 thanks to the "added money".
I'm not an investment wizard by any means, but can't we do a bit better than a 0.008% annualized return while still investing in something safe?
--
Filed Under:
World Series of Poker