Partygaming Positioning Itself For a Return to US Market
Published on 2010-07-29 05:33:00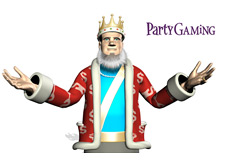 Barclays Capital had this to say when discussing the potential for regulated online gambling in the United States:
"In the event of federal regulation, we believe PartyGaming would be the likely key beneficiary.. we estimate the potential [underlying profits] uplift could be 94% for PartyGaming."
People who are new to online poker may not realize that Party Poker was once the 800 pound gorilla of the online poker industry. Party Poker was #1 in the world, while Pokerstars and Full Tilt Poker were trailing far behind.
It was only when PartyGaming pulled out of the United States in October of 2006 that Pokerstars and Full Tilt Poker were able to finally catch up. As it stands right now, Party Poker is a distant third behind the two major US-facing rooms - Pokerstars (#1) and Full Tilt Poker (#2).
When the Unlawful Internet Gambling Enforcement Act (UIGEA) was attached to the Safe Port Act and passed into law, Partygaming was forced to pull out of the US market, while Pokerstars and Full Tilt Poker remained. The difference? PartyGaming was a publicly traded company on the LSE (London Stock Exchange), while Pokerstars and Full Tilt Poker were still private companies.
PartyGaming shut their doors to their US players - these players constituted the majority of PartyGaming's business, and their stock dropped accordingly. Full Tilt Poker and Pokerstars, on the other hand, opted to remain in the US market, and their market shares soared overnight as Party's displaced US players were forced to move on.
As Pokerstars and Full Tilt Poker happily counted their newfound riches, Partygaming entered into negotiations with US authorities. The purpose of the negotiations was to resolve the firm's legal status with the US government.
The result? In April of 2009, PartyGaming announced that they had reached a non-prosecution deal with US authorities. In exchange for a $105 million payout, the U.S. Attorney's Office for the Southern District of New York agreed to not prosecute PartyGaming or any of its subsidiaries for providing Internet gambling services to customers in the US prior to the introduction of the UIGEA.
PartyGaming also admitted that they had targeted US customers that resulted in "the processing of transactions that were contrary to certain US laws."
--
Why does all of this matter?
Earlier today, HR 2267 passed the House Financial Services Committee by a vote of 41-22. Great news for US online poker players, but the bill is still far from being signed into law.
One of the amendments that was successfully added to the bill basically says that companies that have intentionally broken federal or state gambling laws can not receive a license to operate in the United States, should HR 2267 become law.
This obviously could have big implications for the likes of Full Tilt Poker, Pokerstars and the Cereus network, as these sites all continued to solicit US customers even after the UIGEA was passed into law. Given the language in Party's settlement with the US, doesn't it seem possible that the US government might deny licenses for all three of the networks listed above?
The strong likelihood is that Pokerstars and Full Tilt Poker will argue that they haven't broken any federal or state laws. In fact, there is no way that they would be in favor of online gambling legislation in the US if they didn't believe this to be the case.
Will the US government agree?
--
Many people were scratching their heads while PartyGaming chose to initiate discussions with US authorities. Why settle if they weren't planning on coming back to the United States? It's clear that Party was setting themselves up for a re-entry into the US market at some point.
On top of that, Party's settlement with the US makes it even more likely (IMO) that the US would deny license applications from the likes of Pokerstars, Full Tilt, etc. If Party has already admitted to operating contrary to US laws prior to the introduction of the UIGEA, then surely the US government would find sites like Pokerstars and Full Tilt guilty of the same offenses (and even worse, continuing to operate in the US AFTER the passage of the UIGEA) and reject their license applications.
If HR 2267 is signed into law and it is similar to how it looks right now, then it will be interesting to see how sites like Full Tilt and Pokerstars react. Will they apply for a license and hope for the best? Will they try to enter into settlement negotiations with the US government?
A possible scenario might be for a company like Pokerstars to merge with a company that does not currently take US players (like an Everest Poker, for example). This is obviously looking far into the future, but I guarantee you that high-level executives at both Full Tilt and Pokerstars are turning over possible scenarios in their heads right now as well.
I'm guessing that Pokerstars and Full Tilt Poker would both argue that they have not broken any laws and try to apply for a license - if that doesn't work, then they would try to enter through the back door through some sort of a merger. Maybe this will all end up being a non-issue and both Pokerstars and Full Tilt will be granted licenses with no problems at all - I don't know.
--
One thing is for sure - if online gambling legislation is passed over the next year or two (and I think that it will be), then the online poker landscape will be drastically changed. We haven't even started to think about the companies that might start to flood into the industry if the bill becomes law.
PartyGaming should have a healthy headstart on the competition though, and this will be key in establishing a foothold in the US market. Party has:
-a settlement agreement in place with the US government (which should mean that they will be granted a license)
-millions of dormant US accounts that could be re-opened overnight
-a strong brand that is familiar to many online poker players
-WPT and ClubWPT.com properties that could be used to promote Party Poker
-cash and cash equivalents of over $200 million
PartyGaming is clearly well-positioned to re-enter the US market, and they would get off to a running start. If Pokerstars and Full Tilt Poker had licensing issues (even for the short term), then Party Poker would be able to gain an even bigger share of the US market.
The next couple of years, in my opinion, will be very interesting times for the online poker industry.
Source: Independent.co.uk -
US finance committee to vote on new Internet gambling law
--
Filed Under:
Poker Legislation