When Will Phil Ivey Catch Phil Hellmuth?
Published on 2010-06-22 19:08:00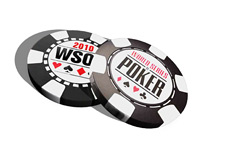 A couple of years ago, Phil Ivey was basically nowhere to be found at the World Series of Poker.
Why would I waste my time playing in smaller buy-in tournaments, he said, when the real action is in the cash games?
A few years have passed, and things have changed. Suddenly Phil Ivey is intensely interested in even the smallest of events at the World Series of Poker, and his bracelet total is swelling as a result.
Phil Ivey won his eighth World Series of Poker bracelet last night in the $3k HORSE event. There were multiple times when it looked as though Ivey was on the ropes, but he was able to hold on and bounce back every time. Heads up play brought more of the same, as Ivey found himself severely short-stacked at one point - again, he was able to hang tough and eventually ended up besting Bill Chen for the title.
This was the third bracelet in the last two years for Phil Ivey, and the eighth of his career. He has moved into a tie with Erik Seidel on the all-time bracelet list, and is now only three behind Phil Hellmuth, who holds the outright lead with 11 World Series of Poker bracelets.
Phil Hellmuth's last bracelet came in 2007 when he took down the $1,500 No Limit Hold'em event for $637,254.
It's just a matter of time before Phil Ivey manages to pass Phil Hellmuth on the all-time bracelet list. Ivey, who seemingly didn't care about bracelets just a few years ago, is suddenly intensely interested in winning as many as he possibly can.
What changed?
First off, the big money prop bets have been a big motivation for Ivey. A $330k first place prize may not have been of much interest to Ivey, but throw in millions of dollars in potential side bet earnings and suddenly he is very interested. Ivey reportedly banked millions from his win last night.
Second, Ivey seems as though he now wants to secure his standing as the game's all time greatest player. Most agree that Phil Ivey is the greatest poker player to ever live, but his legend would be further enhanced if he was able to snatch the bracelet record from Phil Hellmuth.
Ivey has a big advantage over Phil Hellmuth at this point - he is very, very good in games that aren't as popular with the general public (RAZZ, No-Limit 2-7 Draw Lowball, etc). These games have smaller field sizes compared to the more popular Hold'em events, which is where Phil Hellmuth has won all of his bracelets. Phil Hellmuth has to navigate through massive fields to win his bracelets, as Hold'em is clearly his strongest game. Ivey, on the other hand, is good at every game, and is able to take advantage of the events with smaller field sizes.
Starting in 2008, Phil Ivey suddenly got very serious about World Series of Poker bracelets. The result? Three bracelets in less than 3 years. Ivey is currently playing with a tremendous amount of motivation, and it should be just a matter of time before he is able to catch and pass Phil Hellmuth on the all-time bracelet list.
--
Filed Under:
World Series of Poker