Phil Ivey Bounced From $2,500 Pot-Limit Hold'em/Omaha Event in 12th Place
Published on 2010-06-20 01:25:00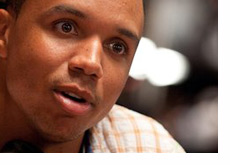 Phil Ivey's eighth World Series of Poker bracelet is going to have to wait for another day.
Despite getting off to a strong start on Saturday, Ivey ended up bowing out of the $2,500 Pot-Limit Hold'em/Omaha tournament (Event #33) in 12th place.
There were 14 players left in this event when the final day of play got under way on Saturday afternoon. Phil had managed to finish Day 2 with around 207k in chips, which was about 250k less than the chip leader, Jose-Luis Velador.
Ivey chipped up in the early going on Saturday, quickly building a stack of nearly 400k in chips. It certainly appeared as though Phil was going to be making a serious run at his eighth World Series of Poker bracelet.
Then, just like that, Phil was out of the tournament.
There was already over 150k chips in the pot when Jose-Luis Velador and Phil Ivey took a flop of Js-4d-4h. Velador checked, Ivey bet 80,000 and Velador pushed all-in after a bit of thought. Ivey went deep into the tank, taking a few minutes to ponder before making the call with As-Ad-8c-2s.
Unfortunately for Ivey, Velador turned up Jd-Jc-10c-9d for a flopped full house. The turn and river brought no help to Ivey, and he was eliminated from the tournament in 12th place ($16,075).
Not only did Phil Ivey miss out on an opportunity to take home his eighth World Series of Poker bracelet, but he also missed out on what was likely millions of dollars in prop bet winnings. Ivey is involved in a number of very big WSOP prop bets, and a victory today would have netted him a small fortune.
Phil had also made Day 2 of the $10k No Limit Hold'em event, but ended up being eliminated in his third round match.
Not a great day for Team Ivey.
Photo: GreasieWheels.com
--
Filed Under:
World Series of Poker