Is Full Tilt Poker Telling Its Players Not To Participate in the NAPT Event This Weekend?
Published on 2010-02-18 14:05:00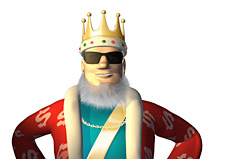 The main event of the Venetian Deep Stack Extravaganza I, which is the second event of the newly formed NAPT (North American Poker Tour), is slated to get under way on Saturday.
The main event, which will have a buy-in of $5k, is expected to have between 800-900 entrants.
On Tuesday, the "Invitational" High Roller Bounty Shootout ($25,000+$600 buy-in) will get under way. This event was expected to feature some of the very best poker talent in the world.
Both of these events, it should be mentioned, will be taped for broadcast on ESPN2 later this year.
There has been a tremendous amount of buzz surrounding the NAPT since it was formally introduced at the PCA earlier this year.
The marketing muscle of Pokerstars instantly gave the tour credibility (and numbers), and many people were legitimately excited about the fact that there would be another viable poker tour that was focused in the United States. The fact that Pokerstars would be offering satellites to all of these events guaranteed that it would be a massive success, and that has definitely proven to be the case already. Hundreds upon hundreds of players will be traveling to Las Vegas to play in the NAPT event at the Venetian this weekend, thanks to winning packages on Pokerstars.
According to a blog posting by Gary Wise on ESPN.com, Full Tilt Poker may be looking to take a bit of the air out of this event.
According to the post, "we're hearing word that you won't be seeing red pros at the North American Poker Tour stop at the Venetian this weekend." The post goes on to say that, "according to one member of the poker industry", "FTP pros were told not to play in Victory Poker's charitably-inclined Trash Talk Championships" that took place a few weeks ago.
I really hope that this isn't true (we'll find out this weekend).
I mean, I can see Full Tilt Poker's rationale from a business perspective, if this is true - they don't want to help a competitor (Pokerstars.net) build up a strong North American poker tour, especially when the United States remains such a crucially important poker market. I see their rationale, even if I don't agree with it.
However, this back and forth between Pokerstars and Full Tilt Poker could legitimately hurt the game if it continues.
For starters, look at the growth that we've seen in a number of European markets over the past couple of years. Part of the reason for this growth has been the success of the European Poker Tour. While the poker market in the United States is much more mature, having another strong and successful poker tour (especially one that will be shown on ESPN2) certainly doesn't hurt. People want to watch the absolute best players in the world on TV, and if names such as Phil Ivey, Patrik Antonius and Tom Dwan are being held out of events, then that hurts the game.
A phenomenally successful NAPT would benefit the entire industry in the long run, and not just Pokerstars. I really hope that this situation doesn't escalate, because the best players in the world need to be on TV as much as possible to continue to expand the game. If players are being told not to compete in events or shows that are sponsored by competing poker rooms, then that will hurt the entire industry.
Source: ESPN.com -
FTP pros to skip NAPT?
--
Filed Under:
Miscellaneous Poker Articles