Hometown Jan Skampa Takes Down EPT Prague Main Event
Published on 2009-12-07 02:42:00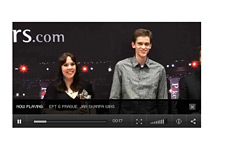 23 year-old Jan Skampa, a student from Prague, is currently on the heater of a lifetime.
Skampa made his first ever EPT Main Event final table just a few short weeks ago, finishing in 4th place in the EPT Vilamoure event for $175k.
Less than a month later, Skampa was at it again, making the final table of the EPT Prague main event.
This time Jan Skampa was able to close the deal, securing himself nearly 700k Euros and an EPT title in the process.
Skampa's victory in the EPT Prague main event didn't come easily - the final table took more than 10 hours to complete, with the heads-up battle (between Skampa and Eyal Avitan) taking more than three hours.
Eyal Avitan took home over 450k Euros for his second place finish.
The final hand of the event came during Level 32 of the tournament. Skampa had about 12.5 million chips in his stack, while Avitan had around 5 million.
Skampa had the button and raised to 450k (blinds were 100k/200k). Skampa had been raising every button during the heads-up battle.
Avitan decided to make a stand and pushed all-in. Skampa insta-called, quickly showing his pocket Jacks. Avitan sheepishly showed J-9 suited and would need a miracle to win the pot.
The flop came Kh-6d-2c - pretty much the worst possible flop for Avitan. Now he would need runner-runner something (nines or 10-Q) to win the hand.
The turn brought the dagger - the Eight of Hearts. Avitan was now drawing dead, and Skampa rose to celebrate his EPT title. The hometown crowd roared with approval, ecstatic that one of their own had captured the title.
Here is how the final table finished out:
1. Jan Skampa, 682k Euros
2. Eyal Avitan, 454k Euros
3. Stefan Mattsson, 255k Euros
4. Anthony Roux, 171k Euros
5. Larry Ryan, 135k Euros
6. Luca Pagano, 100k Euros
7. Gustav Ekerot, 71k Euros
8. Sven Eichelbaum, 55k Euros
Here is an interview with Skampa, courtesy of Pokerstars.TV:
Watch
EPT 6 Prague Winner Interview
on PokerStars.tv
--
Filed Under:
Live Tournament Results