Phil Ivey on E:60
Published on 2009-11-05 10:30:00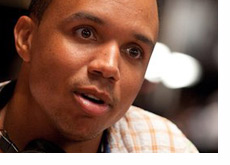 The long-awaited E:60 feature on Phil Ivey has now been posted on the ESPN.com web site, and I have included the clip below.
The 11 1/2 minute clip includes a bit of the background story on Phil Ivey, including interviews with some of the central figures in his life (his mother, best friend, etc).
The feature also includes a glimpse into the life of Phil Ivey as he is followed on a 4-day, 4-country gambling tour in September of this year. Ivey manages to do very well in the casinos that he visits during the excursion (he torches a Montreal casino for nearly 3/4 of a million dollars in just 30 minutes).
The feature talks about how Ivey got his start in gambling, first learning the game from his grandfather in the basement of their home ("I snuck down there because he had air-conditioning and we didn't"), and then later honing his craft in Atlantic City and Las Vegas. Ivey reveals that he spent a couple of nights sleeping under the boardwalk in Atlantic City because he had lost all of his money.
The feature also contains short interviews with Larry Flynt and Howard Lederer. It is revealed that Ivey's big break came in a high-stakes game at Larry Flynt's Hustler casino, where a young Phil Ivey managed to run his last $50k into "millions of dollars".
All in all, this was a very entertaining piece that should just further elevate Phil Ivey's near-mythical status.
Photo: GreasieWheels.com
--
Filed Under:
Miscellaneous Poker Articles