Darvin Moon Not Interested In Sponsorship Deal
Published on 2009-07-27 14:29:06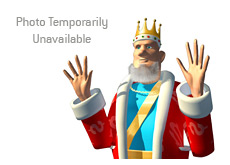 One of the biggest benefits (for players anyways) of having a four month pause in the World Series of Poker main event is that it gives final table participants time to book lucrative sponsorship deals.
Full Tilt Poker and Pokerstars, the two largest online poker rooms in the world, lodged a fierce battle in 2008 to sign the final table participants to sponsorship deals.
All nine final table participants ended up inking deals - Pokerstars signed six of the players, while Full Tilt Poker signed three.
With the exception of Phil Ivey (who obviously already has a deal with Full Tilt Poker), it seemed pretty likely that Pokerstars and Full Tilt Poker would sign the 2009 "November Nine" participants to deals as well.
And why not? It's easy money - wear a patch at the final table and get paid.
For participants of the final table, this can mean an additional $100,000+ payout.
You can safely assume that both Full Tilt Poker and Pokerstars would be pretty anxious to sign Darvin Moon to a deal.
After all, Moon has a dominant chip lead heading into the final table. There is a very good chance that he will win, and having the World Series of Poker champion under contract is obviously a great way to market your site.
In addition, Moon is an affable guy with a good story. A down to earth, working class American who qualified for the World Series of Poker at a small casino in West Virginia. A man who qualified for the final table and was back at work (as a logger) just a few short days later. A man who acknowledges that he was extremely fortunate to make it to the final table in the first place.
Nearly everyone wants to see Phil Ivey take down the main event - however, Darvin Moon winning the tournament would make for a great story as well.
It's no wonder that FTP and Pokerstars would be extremely interested in inking Moon to a deal.
The only problem? He's not interested.
These two rooms (and likely others) surely tried to sign Moon when it became apparent that he was going to make it to the final table. Moon, in his own words, wasn't interested, because "he doesn't want to be tied up to anything". You can
hear his thoughts on being sponsored here
.
It seems as though Moon is perfectly happy wearing a New Orleans Saints hat instead of a Pokerstars.net hat.
It should be interesting to see:
a) if any of the rooms can convince Moon to sign a deal between now and November
b) if Moon continues to reject sponsorship money if he ends up winning the main event
Some people think that Moon is insane for not signing a deal.
Others give him respect for not being motivated entirely by money.
What do you think?
--
Filed Under:
World Series of Poker