Phil Ivey Still Alive in Main Event
Published on 2009-07-16 02:32:21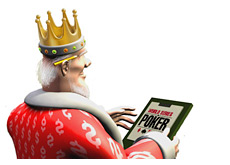 6,494 players set out on a mission to win the 2009 World Series of Poker main event nearly two weeks ago.
Of those 6,494 players, only 14 remain.
Heading into the Day 8 dinner break, Eric Buchman is the current main event chip leader.
Buchman currently has around 28.67 million chips in his stack, which is roughly 1.4 million more than Steven Begleiter (27.2 million).
Darvin Moon (22.6 million), Joseph Cada (19.46 million) and Jordan Smith (18.84 million) currently round out the top five.
Phil Ivey currently has around 7.3 million in chips, and is one of the smaller stacks heading into the second part of Day 8. Other players at his table aren't too anxious to play pots with him, and you have to figure that Phil will continue to use this to his advantage, especially in short-handed play.
Jeff Shulman is also still alive in the tournament - he currently has around 14 million chips in his stack.
Antonio Esfandiari hit the rail in 24th place earlier in the day, and will take home just over $350k for his efforts.
All of the remaining 14 players in the tournament are guaranteed at least $633k for making it this far. It's worth noting that there is a considerable pay jump from 13th to 12th place ($633k vs $896k).
Here are the current chip stacks, courtesy of
Worldseriesofpoker.com
:
Eric Buchman - 28.67 million
Steven Begleiter - 27.26 million
Darvin Moon - 22.6 million
Joseph Cada - 19.46 million
Jordan Smith - 18.84 million
Jeff Shulman - 13.8 million
Billy Kopp - 13.5 million
Antoine Saout - 12.42 million
Kevin Schaffel - 10.63 million
Phil Ivey - 7.32 million
Ben Lamb - 5.2 million
James Akenhead - 5.09 million
James Calderaro - 5.0 million
Jamie Robbins - 1.34 million
We'll have another update on
Poker-King.com
once play has wrapped for the evening.
--
Filed Under:
World Series of Poker