2009 WSOP Results Proving That Poker is a Game of Skill
Published on 2009-06-30 02:44:11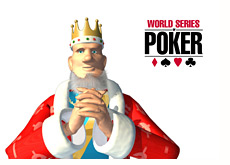 Do you still need convincing that poker is a game of skill, and not a game of luck?
The results from the 2009 World Series of Poker provide some pretty concrete evidence that skill usually wins out over luck in poker tournaments.
For instance, there are now FOUR multiple bracelet winners this year.
Brock Parker, Phil Ivey and Greg Mueller have all won two bracelets in 2009, while Jeffrey Lisandro has won three.
Is Jeffrey Lisandro just really lucky (as some people would argue), or is Jeffrey Lisandro just a very good poker player? I'll let you decide. Sure, he is definitely running hot right now, but it's pretty difficult to luckbox your way to three World Series of Poker bracelets in just one year.
Pokerati.com also points out
that a grand total of SEVEN players have had both a 1st and 2nd place finish so far this year. They are:
Ville Wahlbeck
James Van Alstyne
Pete "The Greek" Vilandos
Angel Guillen
Vitaly Lunkin
Brandon Cantu
Marc Naalden
Wahlbeck and Lunkin are BOTH still alive in the $50k HORSE event as well, with just 14 participants remaining in the tournament.
Pokerati.com goes on to note that Wahlbeck has already banked a 1st, 2nd and 3rd place finish so far this year.
Some of the top poker players in the world, including Phil Ivey, Daniel Negreanu and Jeffrey Lisandro, have already cashed 5+ times in the 2009 World Series of Poker.
How can you look at these results and still come to the conclusion that poker is a game of luck?
--
Filed Under:
World Series of Poker