Thang Luu Does It Again
Published on 2009-06-01 19:55:20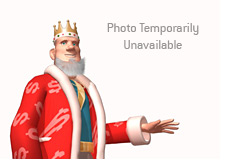 The best story of the 2009 World Series of Poker (so far) belongs to Thang Luu, who was able to win the $1,500 Omaha Hi/Lo 8/b bracelet last night.
Did we also mention that Thang won the very same event last year as well?
Or that he came second in the $2k Omaha Hi/Lo event in 2007?
Thang Luu is clearly a very strong Omaha Hi/Lo 8/b player, but his run over the past three years has just been ridiculous.
In 2007, Luu managed to outlast 532 other players to take second place in the 2k event, eventually succumbing to Frankie Odell. Luu collected $147,726 for his second place finish.
In 2008, Luu navigated through a field of 832 entrants in the $1,500 Omaha Hi/Lo 8/b event to take down his very first World Series of Poker bracelet. Luu collected $243,342 for his first-place victory, as well as the coveted WSOP bracelet.
This year, Luu did it again, managing to capture yet another bracelet in the very same event. In 2009, the field was even larger (918 entrants), but Luu still managed to skillfully slice his way through the field to take down yet another bracelet.
This was no fluke - Luu was leading the 2009 event after Day 1, and was second in chips after Day 2. Pretty impressive, especially when you consider that the tournament was absolutely loaded with top pros.
According to his World Series of Poker profile, Luu arrived in the United States at the age of 17. Before turning pro, Luu worked as a dealer in Las Vegas. In fact, one of his first ever cashes came in the $500 Casino Employee event at the 2005 World Series of Poker, when Luu earned just under $24k for his 3rd place finish.
"Tiger Luu", as he is called by his friends, now has over $750k in lifetime tournament cashes.
One more impressive note about Luu - he now has five lifetime cashes at the World Series of Poker, and each of these five cashes included final table appearances.
Congrats to Thang Luu on his very impressive accomplishment.
--
Filed Under:
World Series of Poker