$1k "Stimulus Special" Event Hits Capacity
Published on 2009-05-30 22:05:30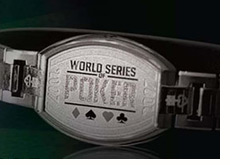 Poker is officially dead.
Ok, maybe not.
The World Series of Poker juggernaut continues to roll on as Event #4 (the $1k NLHE "Stimulus Special" tournament) has officially been announced as a sell-out.
The World Series of Poker, in a press release issued earlier today, announced that the event has reached its cap of 6,000 players. 3,000 players are taking part in Day 1A (which started roughly three hours ago), and another 3,000 players will try their luck tomorrow.
This represents the largest ever turnout for a non-main event tournament in the history of the World Series of Poker. The previous record was established last year when 3,929 players turned out for a $1,500 No Limit Hold'em event.
The winner of this year's "Stimulus Special" tournament is guaranteed to receive at least $750k.
The first week of the 2009 World Series of Poker has provided nothing but good news, not only for the World Series of Poker, but also for poker in general.
Poker is clearly alive and well despite a global recession.
201 players turned out for the $40k NLHE tournament (Event #2), which created the largest non-Main event prize pool in WSOP history.
A staggering 918 players turned out for the $1,500 Omaha Hi/Low event yesterday, easily besting the old record of 833. According to the WSOP, this is the "largest live Omaha tournament ever played". It should be interesting to see how the $1,500 PLO event on Monday does - I can't see it having less players than the Omaha Hi/Low event.
All in all, the 2009 WSOP is off to an exceptional start.
--
Filed Under:
World Series of Poker