Kentucky Court of Appeals Rules In Favor Of Online Gambling Industry
Published on 2009-01-21 10:09:38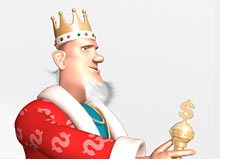 Kentucky Governor Steve Beshear has failed in his attempt (for now) to seize 141 online gambling domains.
I know that it's probably not too professional to title an article "Steve Beshear = FAIL", but I don't care - this entire situation is absolutely ridiculous and Beshear's actions are laughable.
Thankfully the Kentucky Court of Appeals saw the light and blocked the state from seizing these domains. The Kentucky Court of Appeals, in a 2-1 decision, ruled for the Interactive Media Entertainment and Gaming Association (iMEGA) in its suit against Judge Wingate. The decision blocks the planned seizure orders.
Judges Michelle Keller and Jeff Taylor both ruled for iMEGA. They agreed that domain names were not "illegal gambling devices" and that the Commonwealth could not proceed with their planned forfeiture action. The state, according to Keller and Taylor, does not have the jurisdiction to seize the domains.
Judge Michael Caperton was the lone dissenting vote.
This was great news, but the Commonwealth will very likely appeal the ruling. This issue will likely end up with the state Supreme Court.
Jay Blanton, a spokesman for Governor Beshear, said that they will take time to review the ruling and then make a determination as to whether or not they will appeal it to the Supreme Court of Kentucky.
Hopefully they will just drop the issue, but I kind of doubt it.
All in all, a great week for poker in the court room.
First, Judge Thomas A. James, Jr., a Pennsylvania judge, ruled that Texas Hold'em is a game of skill and therefore should not be considered gambling under state law.
Just a few days later, Steve Beshear was rebuffed in his attempt to seize over a hundred of the most trafficked Internet gambling domains in the world.
Not a bad week at all. Hopefully the online poker industry can build on this momentum..
--
Filed Under:
Poker Legislation