Published on 2008-08-25 06:44:05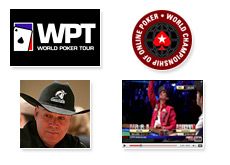 Apologies for the lack of posts in the past week or two - I've been on vacation. This is a pretty slow time in the poker world, so I thought that it was a good chance to recharge my batteries and come back strong for the beginning of September.
Instead of writing an article for each interesting event that has happened over the past week, I thought that I would just do a quick recap. Tomorrow (Monday), we'll be back at full speed..
1. The WPT.
The World Poker Tour announced that they had received a delisting notice from the Nasdaq. When a Nasdaq listed stock trades at under $1.00 for 30 consecutive business days, then the company will automatically receive a delisting notice.
So what does this mean?
It means that the World Poker Tour has 180 calendar days to regain compliance, which means that the stock must trade above $1.00 for 10 consecutive business days. If the company can't accomplish this, then the stock will be delisted from the Nasdaq stock exchange (really bad).
So what happens now?
The stock is currently trading at 88 cents per share. I would imagine that company executives will maintain the status quo for a few months, hoping that the stock will naturally climb above $1.00. I also wouldn't be surprised to see some of the management buy shares for themselves in an attempt to reverse the downwards momentum of the stock.
If all else fails, the company will do a reverse stock split. For example, if they do a 1:10 reverse split, then the stock would trade at $8.80. If you held 100 shares of the company at 88 cents per share, then you would now hold 10 shares at $8.80 if the company enacted a reverse split.
Reverse splits are never good, no matter how a company tries to spin it. Reverse splits usually just delay the inevitable.
In other news, Scott Friedman, CFO of the World Poker Tour, announced his resignation last week.
At this point, you really wonder what the World Poker Tour can do to turn their fortunes around. They have some cash, but it won't last that long, considering how much money they are losing every quarter. Would anybody be interested in buying the company or the brand? If so, who? These are questions that will be asked more and more over the next 6-12 months, as I can't see the company surviving in its current form. Just my opinion, of course.
2. Scotty Nguyen.
In case you missed it, the now infamous Scotty Nguyen appearance on ESPN took place this week. It was the $50k HORSE event (which Scotty ended up winning). Scotty basically tilted everyone at the final table (including the usually unflappable Erick Lindgren) through his obnoxious drunken behavior. What made it even worse is the fact that this event was supposed to be honoring the memory of Chip Reese, which made the behavior of Nguyen even more reprehensible.
Here is a Youtube clip of Nguyen's antics at the final table:
Wicked Chops had some good commentary on the final table,
which you can read here
. I couldn't have said it any better myself.
3. Hoyt Corkins.
Hoyt Corkins, multiple WSOP bracelet winner, recently had his house broken into while vacationing. The thieves took their time and made off with many of Hoyt's most valuable possessions, including his two WSOP bracelets and multiple vehicles.
Pokernews has more on the situation here
, including a partial list of the items that were stolen, as well as contact information if you know anything about the crime.
4. High Stakes Results on Full Tilt Poker in August.
According to
HighStakesDB
(which tracks NLHE, HORSE, PLO and Omaha Hi/Lo), David Benyamine and "LoLiNa" are still the two biggest winners on the site so far in August. Benyamine is currently up over $770k in August, and "LoLiNa" has made $758k. Phil "OMGClayAiken" Galfond (+$606k), Tom "durrrr" Dwan (+$596k) and Gus Hansen (+$417k) have all had strong months so far. Biggest losers so far in August? "SteveSung" (-$744k), "patatino" (-$680k) and "lady marmelade" (-$600k). We'll have another update once the month is over.
5. WCOOP and $25k Heads-up PLO Event on Full Tilt Poker.
Just a reminder that the 2008 WCOOP gets underway on September 5th and the $25k Heads-Up PLO Championship on Full Tilt Poker takes place the next day (September 6th). There should be some great action in both events - satellites for many WCOOP events, plus the $25k PLO event, are running now.
That's all for now - we're back tomorrow at full-speed.
--
Filed Under:
World Series of Poker
|
Poker on TV