Published on 2008-05-23 07:20:57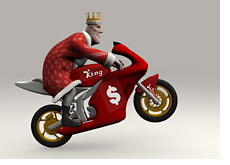 Right now is the "calm before the storm" in the poker world. To be honest, there is just not a lot going on right now, and finding topics to write about over the past few weeks has proven to be a bit difficult.
January to May is typically the "down" period in the yearly poker cycle. The good news is that this period is almost over, as the World Series of Poker starts in just one week. After the WPT Championship ended, many top players took vacations to rest up for the upcoming World Series of Poker. With the $10k Pot Limit Hold'em Championship set to get underway a week from this Friday, many of these players will be returning to town over the next couple of days, and the flow of news will surely start to pick up once again.
We have a number of things to look forward to over the next few months. They are:
1. The World Series of Poker. 55 total events. Eight $10,000 "World Championship" events, including the Main Event. The $50k H.O.R.S.E. event. The three month break before the final table of the Main Event is played. The cash games at Bobby's Room. There is always plenty going on at the World Series of Poker.
2. The prop bets. Doyle Brunson and Patrik Antonius are supposed to be squaring off in a seven figure heads-up challenge sometime this summer. As a matter of fact, Antonius has a number of bets booked for this summer, including: the Heads-Up Poker match with Brunson, a $100k tennis/golf bet with Brandon Adams, a tennis match versus Gus Hansen for $200k, another golf bet for $200k, and a $500k Heads-Up Stud 8 or Better / Golf bet with Daniel Negreanu. And these are just the bets that involve Patrik Antonius. I am sure that there will be more epic prop bets this summer.
3. The online cash games. Last year, a number of well-known players would bust out from WSOP events and then show up on Full Tilt Poker an hour later. Many times they were still steaming from their bust-outs, which would provide for some pretty entertaining sessions. I am sure that we will see more of the same this year.
4. Big Online Events. The $25k Heads-Up Championship on Full Tilt Poker will take place this weekend. There are already 66 players registered for the event, which means that the prize pool will be a bare minimum of $1.6 million dollars. Names such as Phil Ivey, David Benyamine, Gus Hansen and Erick Lindgren are set to participate. Then in September, Pokerstars will be hosting the 2008 edition of the World Championship of Online Poker. Also, Full Tilt Poker will be hosting the ninth edition of the FTOPS between now and the end of the summer as well.
5. The long-awaited Ultimatebet statement regarding the "NioNio" situation. For a great summary of the situation,
please click on this link
(2+2).
As you can see, things are about to pick up. We'll do our best to cover it all on this site and Poker-King.com.
--
Filed Under:
Miscellaneous Poker Articles